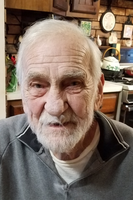 Daniel A. Harroun Jr.
Harroun, Daniel A. Jr.
Of Angola, NY, died Tuesday May 14, 2019 in Buffalo Mercy Hospital, he was 92. Beloved husband of the late Loretta Harroun; loving father of Patrick (Cheri) Harroun and the late Daniel M. Harroun. Grandfather of Erica, Jeremy (Casey), Jason (Robin), and David (late Shannon) Harroun. Also survived by 5 great grandchildren. Graveside services will be held Saturday, JUNE 1, 2019 at 11AM in Lakeside Cemetery Hamburg, NY. Mr. Harroun was a United States Navy Veteran.