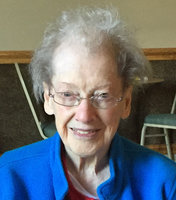 Martha L. Hunt
Martha Hunt, 98, elementary school teacher and active volunteer in Hamburg and Evans
Martha Louise Hunt, longtime resident of Hamburg, New York, was an active volunteer in her communities of Blasdell, the Town of Hamburg, and Evans, New York. She died in Hamburg on May ninth at the age of 98.
Born in Hamilton, Ontario, she moved with her family to Blasdell, New York. She graduated from Blasdell High School in 1939 and attended Fredonia Normal School where she received a degree in elementary education. Mrs. Hunt began her teaching career in Hamburg School District in 1943 and retired from Frontier Central School District in in 1977, after many years of teaching first grade at Blasdell Elementary School. During her years of teaching, Mrs. Hunt would tutor children free of charge, would make home visits, especially to those students who were critically ill, and welcomed students into her home where she helped them with their reading skills.
While teaching in Frontier Central, Mrs. Hunt became very active in the American Field Service (A.F.S.) which sponsored students from other countries to visit the United States and attend schools here. Mrs. Hunt herself sponsored students from Austria, France, and Colombia.
Martha Hunt was also a Girl Scout leader for over ten years. She spent many years in meetings and Girl Scout camps teaching young ladies life skills.
Martha Hunt was active in her churches in the communities of Blasdell and Angola. At the Union Presbyterian Church of Blasdell, Mrs. Hunt was a Sunday School teacher, a junior church leader, a junior youth group leader, a deacon, and was chosen as Woman of the Year.
As a member of First Congregational United Church of Christ in Angola, Mrs. Hunt was known for baking large quantities of pies and other baked goods for events and fundraisers in the church. Even at the age of 96, Mrs. Hunt baked over thirty pies and hundreds of cookies for the church's strawberry social.
Mrs. Hunt was an accomplished seamstress. She made wedding dresses for her family and costumes for her schools and churches. At the First Congregational Church, she belonged to the Stitcheri and Tuesday Sewing Groups. Among her projects were making clothing protectors and lap pads for Cradle Beach and for the elderly and disabled. Mrs. Hunt sewed and hand embroidered altar cloths for all the church seasons for both the Union Presbyterian and First Congregational Churches.
Martha Hunt was a member of the Hamburg Historical Society for over fifty years. She was very active in the society library and assisted in many fundraisers.
Before she passed, Martha Hunt was the oldest member of her church in Angola and also recognized by the National Geographic Society as their longest subscriber. She always endeavored to help those around her, even in her last days at Autumn View Health Care Facility.
Mrs. Hunt is predeceased by her husband, George Albert Hunt. She is survived by two daughters, Georgianna (Terrence) Murphy and Diana (MIchael) Collopy, four grandchildren, and six great grandchildren.
Memorial services will be held Sunday, June 9th at 2:00 PM in the First Congregational United Church of Christ, 132 N. Main Street, Angola, NY, reception in the church hall to follow.